How Mermaid Valley Vineyard Kept Flowing During Freezing Conditions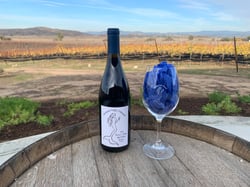 When Scott and wife Kim Flinn, Owners of Mermaid Valley Vineyard in Ramona, CA initially inquired about protection for their backflow preventors, they had no idea Southern California would dip into record freezing temperatures. Both coming from previous professions in the medical field in the U.S. Navy, they were used to facing many challenges in a day. They knew they needed to tackle this challenge head-on like any other. They immediately reached out to ThermaXX Jackets to discuss their needs.
Mermaid Valley Vineyard sits just East of San Diego, CA in the small town of Ramona. In the winter of 2020 the weather dipped to a record breaking 21°F ! They knew they needed a quick solution that was high-quality, made in the USA, and custom designed to fit their specifications exactly.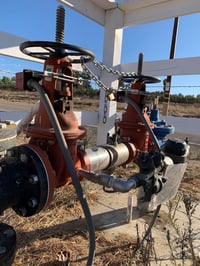 Four backflow preventers needed to be protected from the elements with one being a FDC (Fire Department Connection.) Scott's main concern was not just protecting his backflow preventers with insulation, but preventing them from freezing as well. He needed assurance that water for irrigation and emergency water would be flowing no matter how cold it got.
ThermaXX Jackets worked with Scott to create the easiest and quickest removable insulation solution for his backflow preventers. Scott and Kim ordered backflow preventer bags with D-ring straps that could be tightened and hook and loop enclosures. It was a success!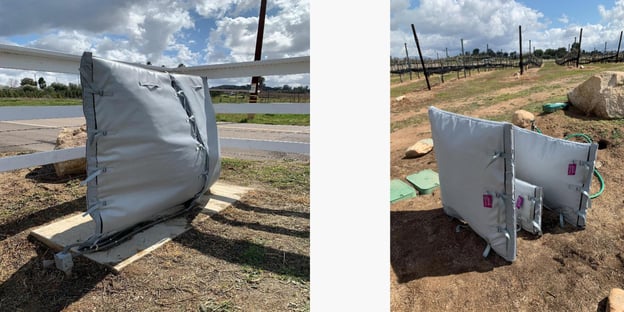 To learn more about all of ThermaXX Jacket's custom backflow preventer insulation, click here.
Click here to learn more about Mermaid Valley Vineyard.
Rose Titcomb comes to Thermaxx as our Northwest 2018 sales partner. Having grown up in the city by the Bay, San Francisco, she understands the importance of community. That community feeling has driven her to play team sports and run a business for half her career. She has ties to the East Coast from the mom and pop store her grandfather owned in upstate New York to her schooling days. She is excited to embrace a new venture she believes is a valuable tool for many businesses with the Thermaxx family and looks forward to the new relationships she will make. In her free time Rose loves' #1 loves are her children. You may also catch her hitting the ball around and eating her way thru the windy city by the Bay.