Insulation Blanket Manufacturers
What Are Insulation Blanket Manufacturers
Industrial insulation blankets come in all shapes and sizes to fit a wide array of components from pressure reducing valves to steam pipes. The businesses that design, cut, and sew together insulating materials to create insulation blankets are called insulation blanket manufacturers. Thermaxx removable insulation blankets are all designed, measured, cut, and hand-sewn in-house making us the industry leading manufacturer of removable insulation products.
Applications of Insulation Blanket Manufacturers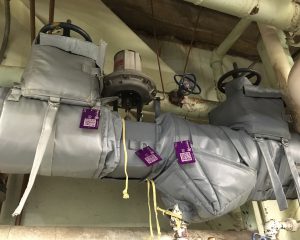 Insulating components besides piping, like boilers or globe valves, can be quite difficult. Every make and model of every component has a different shape and size, which makes insulating them a custom job. No one size fits all in the boiler room! In this case, an insulation blanket manufacturer like Thermaxx Jackets would measure the component and consider its surroundings and design a custom insulation blanket to cover it.
Experience Matters
In the insulation blanket industry, experience matters. Thermaxx Jackets has insulated thousands of components over the years, solving every unique problem that comes our way whether its high temperatures, freezing conditions, harsh weather, flooding, etc. Our experience in manufacturing insulation blankets for every situation has allowed us to become industry leading experts. See some of our work in these case studies:
Advantages of Removable Insulation in Cryogenic Industry
Meeting Industrial & Commercial Requirements
Have engineering specs that are required to be met? Thermaxx Jackets has experience in designing and manufacturing insulation blankets tailored to your specifications. Some required features commonly requested include:
High Temperature Insulation Jackets
Heat Trace Cable Insulation Jackets
Hydrophobic Insulation Jackets
Insulation Jacket for Custom Components
Benefits of Insulation Blankets
1. Reducing Energy Costs
Many of our insulation blankets can pay for themselves in less than a year!
2. Enable Periodic Maintenance
Removable insulation allows you to easily conduct periodic inspections and maintenance of equipment and identify and remedy equipment problems and inefficiencies, and maintain cost-efficient operations.
3. Prevent Waste and Excess Cost of Hard Insulation
With a removable insulation blanket, you can remove the insulation whenever necessary, then easily reinstall it yourself!
4. Extend the Life of Equipment & Machinery
Insulation covers help protect expensive equipment by reducing exposure to the elements and shielding it from accidental damage.
5. Improve Workplace Safety
Removable insulation covers can prevent direct contact with high-temperature pipes and equipment for greater workplace safety.
For more information on getting insulation blankets manufactured, contact us or view our products.