Manufacturing Insulation Blankets In A Clean Room
So how clean is your room?! Let's talk Clean Rooms! Exactly what IS a Clean Room and why would a manufacturing company need one?
A clean room is a separate controlled environment free of the normal ambient particles that surround us in normal daily life. The clean room is designed with a filtration system called a High Efficiency Particulate Air or better known as HEPA. The HEPA filter acts like a trap catching the tiny particles. Those particles are then filtered out. The HEPA filter has a certain design to catch particles dependent on size.
The lower the ISO class the lower the particle count and the 'cleaner' the room is. The filtration system controls humidity to keep the moisture out. This graph shows the different classes of a clean room. The ISO classes are based on the number of particles in the room. For example, a room with 20 hairs would be considered an ISO class 5.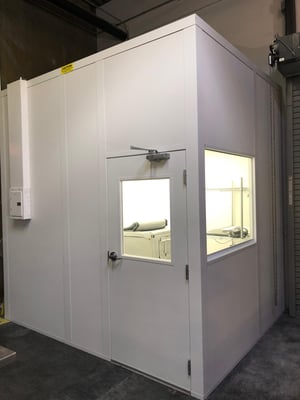 So why you ask does Thermaxx Jackets have a clean room? When working with certain industries like semiconductor manufacturing, pharmaceuticals, biotech, medical device and life sciences, as well as critical process manufacturing common in aerospace, optics, military and Department of Energy – we cannot contaminant the customer's products. For instance, in a microchip room any particles could ruin the circuit. If we are having to clean this in a cleanroom that means the jacket is going into a cleanroom at the customers. Special materials need to be avoided as well such as silicone. At Thermaxx we use PTFE cover material and clean room compatible insulation material. For the assembly of our jackets we have a dedicated assembly area and sewing machine for the cleanroom jackets. The jackets are then brought into the cleanroom to be wiped down with lint-free alcohol wipes. Once cleaned they are heat sealed in 2 plastic bags: inner and outer bag. All of this is being done while wearing a hairnet, face mask, clean room gown and gloves. At Thermaxx we are leading the removable insulation industry by having a clean room for our customer's needs. To learn more about our offerings, visit our products page.