Case Study: Columbia University Irving Medical Center
"CUIMC sees long-term benefits in using Thermaxx's insulation jackets for several reasons: reducing energy consumption, increasing the ease of reinstall after maintenance, and eliminating the need for future investments in insulation. Thermaxx's team communicated exceptionally well with Con Edison's inspectors by providing them with adequate information of our site during pre- and post-inspection, which ensured maximum incentives from Con Edison on our projects. Most of our projects' payback was within a year, which made funding these projects more straightforward."
- Indrajeet Viswanathan, Director, Energy Management and Sustainability
Overview
Columbia University Irving Medical Center (CUIMC) is one of the oldest academic medical centers in the country. It is also the largest campus of New York-Presbyterian, covering multiple blocks of upper Manhattan.

In 2019, NYC enacted the Climate Mobilization Act, or Local Law 97. Under this groundbreaking law, most buildings over 25,000 square feet will be required to meet new energy efficiency and greenhouse gas (GHG) emissions limits by 2024, with stricter limits coming into effect in 2030. To comply with these regulations, CUIMC's Director of Energy Management and Sustainability, Indrajeet Viswanathan, contacted Thermaxx and requested an insulation audit of eight buildings on the campus.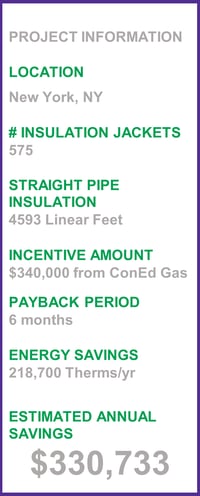 In response, Thermaxx conducted an energy audit of the central heating plant and heating systems in the requested buildings. Thermaxx then manufactured and installed custom insulation jackets for over 500 components and installed 4,500 feet of pipe insulation. These measures combined to reduce energy output by more than 200,000 therms per year, saving money, improving the working environment, and reducing GHG emissions.

Project manager, Patrick Church, and Sales Executive, Suzanne Rowe Barrett, from Thermaxx also implemented SLATE tags and portals, a state-of-the-art asset management and tracking system, to assist with the coordination of Con Edison pre- and post-inspections for local utility incentives. Every change to code and specification needs to be documented so it can be submitted to the utility company upon completion. The financial incentive from Con Edison is derived from thermal savings. If an asset is omitted, added, or if the linear footage changes from the initial submission, this information must be documented. Thermaxx's proprietary smartphone app enables data to transfer from the jobsite to a SLATE portal in real time, making mistakes less likely and improving ease of relaying accurate information. Today, Thermaxx continues to work with CUIMC and plans to provide insulation upgrades to seven additional buildings in 2022.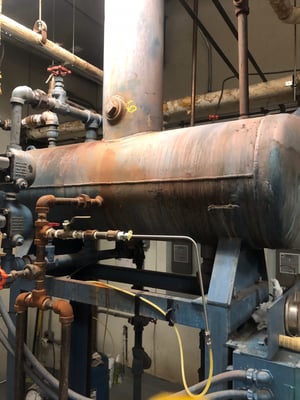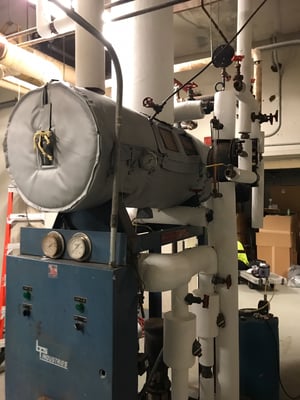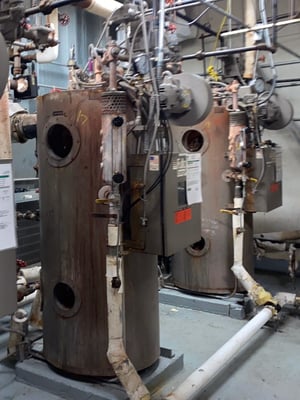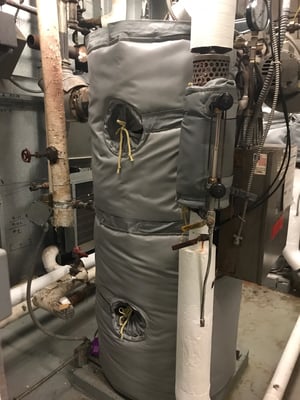 Do you have a facility that would benefit from removable insulation, or are you just curious about available utility incentives in your region? Be sure to
contact us
and find out how Thermaxx can help solve your energy compliance problems and help you save money at the same time.