Case Study: Sky Lakes Medical Center
Custom insulation jackets by Thermaxx reduced heat loss and provided stellar return on investment for our client in Klamath Falls, Oregon.
Sky Lakes Medical Center is located in beautiful Klamath Falls, Oregon, United States. It is a 176-bed hospital, originally built in 1966, with the current patient tower opening in 2007. The hospital works with the two local colleges nursing programs so that the nursing students get clinical training during their schooling. This was a unique project, as it had no eligible incentives and the payback warranted no outside support.
Sky Lakes Medical Center is continually looking for opportunities to save energy, and one of their main concerns was the valve system. Although the project was not eligible for energy incentives, the initial heat loss survey revealed numerous poorly-insulated areas. The medical center environment was a key consideration, as reducing heat loss is vital to maintaining steady temperatures within the facility. The decision was made to go ahead and replace faulty insulation with custom-made insulation jackets.
The preliminary heat loss survey helped the medical center understand where energy was being lost and identify opportunities for insulation installation and enhancement. The jackets instantly reduced heat loss, providing an estimated $12,000 in annual energy savings. In total, Thermaxx installed:
63 removable insulation jackets
51 linear feet of straight hard pipe insulation
16 fittings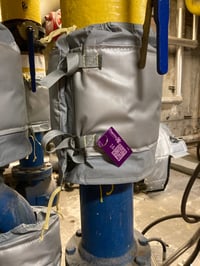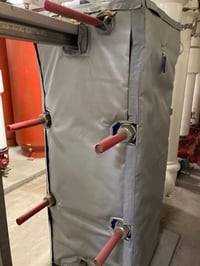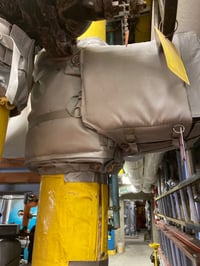 Primary Project Benefits
Locating poorly insulated areas and identifying energy and cost saving opportunities
Immediate reduction in energy loss
Protection of all insulated surfaces
Simple and easy removal and replacement of Thermaxx jackets (for all servicing and repair needs) allows continued protection against heat loss
ROI of less that 3 years with $12K in annual savings
"Our facilities managers are not having the mess like with standard

insulation. It is cleaner and easier

to maintain the valve system.

This is a continuation of our

energy projects that we are looking

at to continually save energy, and

this was one of those solutions

that we decided to do."
- Rick McGuffey
Director of Facilities
Don't Wait, Act Now
As Rose Titcomb, regional sales manager for this project, puts it "Some of the smallest projects give the greatest return. Never deny yourself a preliminary energy heat loss assessment to see what you are really losing vs. what you could be saving in energy and dollars." See what your opportunity is to start saving money with an insulation project from Thermaxx today by requesting a heat loss survey.
Want to learn more about how Thermaxx can help you find the best solution for your unique insulation challenge? Be sure to contact us or request a quote today!