Guide to Insulation Applications by Industry
When it comes to industries like municipalities, schools, and universities, insulation is essential for maintaining heat and conserving energy. Depending on the industry, insulation is also crucial for covering pipes, ducts, fluid lines, storage tanks, and other equipment. Many industrial insulation materials can also provide water resistance, fire control, and soundproofing.
You'll want to consider several factors before deciding on the specific insulation you'll need for your industry. Insulation jackets come in various materials, thicknesses, layers, and styles to provide different levels of performance and efficiency. Keep reading to learn more about commercial insulation types, the requirements to consider, and the importance of insulation for various industries.
Importance of Insulation for Different Industries
Insulation serves many purposes, and its function will differ depending on your industry. Learn the importance of insulation for different companies:
Municipalities
Insulation is crucial for government and municipal buildings. These buildings often require a lot of insulation to keep them comfortable for employees and the public year-round. Insulation is also helpful for soundproofing, reducing outside noises for personnel to conduct business in a quieter, more private environment. Additionally, keeping overhead costs down is critical to municipal budgets, and unmanaged heat loss from uninsulated components can lead to excessive heating costs, especially as energy costs go up.
Schools
When it comes to schools, insulation is crucial for creating a comfortable, quiet learning environment for students. Insulation also delivers temperature control for those hot or cool days, keeping school buildings at proper temperatures no matter the season. By insulating critical components in boiler rooms, schools can keep maintenance staff safe from potential burns while also cutting utilities spending.
Universities
In the United States, colleges range in size from student populations of a few hundred to more than 60,000 enrolled students. Insulation at these institutions is essential to reduce carbon emissions, protect from the elements, and provide a comfortable place to learn year-round. The more students, the more insulation you'll likely need to control temperatures and help reduce the emissions your buildings produce. Large scale campuses often many mechanical rooms, meaning a multitude of locations for potential heat loss from uninsulated, or under-insulated components to hide out. Many campuses across North America also use district steam, creating an underground system of tunnels with pipes and valves that all need to be insulated to ensure that they are operating at maximum efficiency.
Healthcare
Insulation is essential in creating a healthier environment for buildings, which is crucial for the healthcare industry. Industrial insulation plays a role in improving air quality by reducing the amount of air infiltrated into your building, ensuring that patients get fresh air without allergens that come from the outside. Air leaks can also bring mold and mildew spores, moisture, and pollution. Also, similar to universities, many hospitals and healthcare facilities are located in large scale buildings, and sometimes have an entire campus. This means multiple mechanical rooms, each with many pipes and other serviceable components, all with potential for energy savings with appropriate insulation. Insulating these mechanical rooms also has the added benefit of reducing the ambient temperature of adjacent spaces, which often in include offices and patient rooms.
Industrial
Insulation for industrial applications include components such as large scale piping, storage terminals, ovens, boilers, and furnaces, all operating at a wide range of temperatures. Typically these components are exposed to a harsh environment, often outdoors, where humidity as well as freezing temperatures are important to factor in when selecting the appropriate insulation materials for the specific application. Industrial applications can also include include the marine industry, where a number features become critical, including not being combustible, moisture-resistance, non-corrosive, mildew resistant, and sound attenuation capabilities.
Commercial
Multi use buildings, including high rise apartment complexes and offices will fall into this category. With thousands of customers, clients, and tenants entering or living in these spaces year-round, buildings should utilize the proper insulation to keep everyone comfortable and satisfied. Ambient temperature in rooms adjacent to mechanical spaces can see considerably more comfortable temperatures. It also creates a safer working environment for maintenance employees who may need to access boiler rooms or go near mechanical equipment, with reduced risk for burns.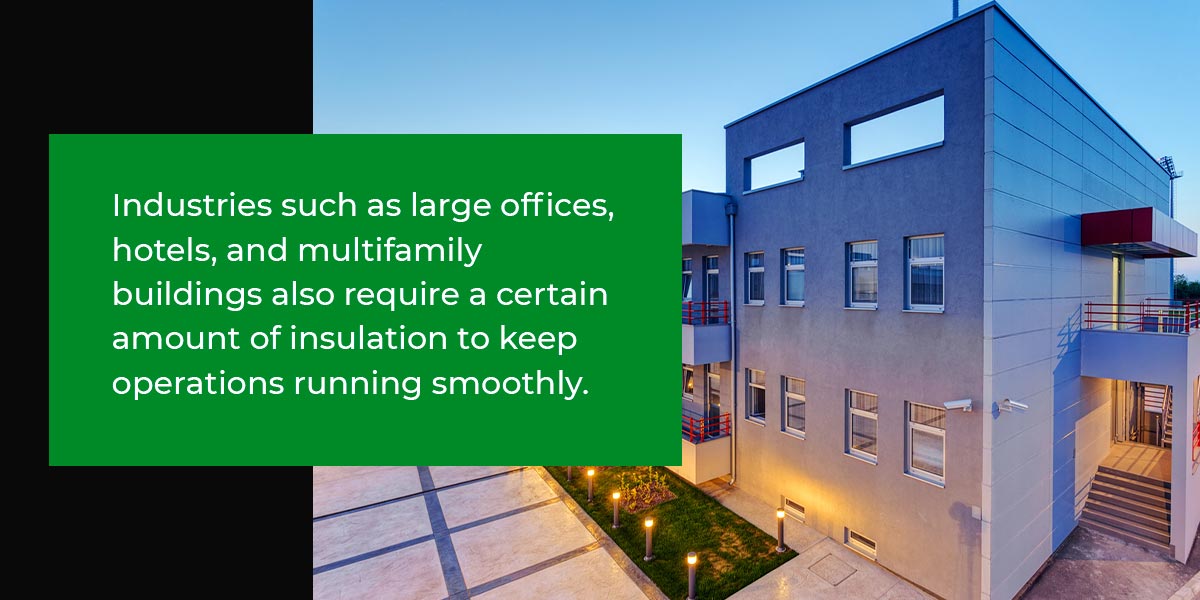 Other Applicable Industries
Industries such as factories, clean rooms, and manufacturing facilities also require a certain amount of insulation to keep operations running smoothly. It's essential to insulate piping systems in these buildings to:
Reduce potential burn hazards for personnel protection.
Control and stabilize process temperatures.
Prevent condensation and corrosion on cold surfaces.
Increase fire protection.
Control noise and vibrations.
Allow for quick and easy washdown of surrounding area without damage to equipment.
Mechanical Insulation Materials and Thickness Requirements
There are several factors to consider when it comes to industrial insulation applications. These considerations include the industrial insulation materials and thickness for optimal performance and durability:
Thickness:

Certain equipment or environments might require multilayer insulation, especially in extreme temperatures or for applications that exhibit greater temperature cycling. Thicker insulation can help control temperatures and prevent condensation or ice formation on your equipment. Depending on the industry and state you live in, the minimum thickness of your insulation will be dictated by code, which often comes down to your building's energy savings.
Materials:

When it comes to materials, most traditional mechanical insulations uses fiberglass, polyolefin, or elastomeric materials. Other industries require materials like cellular glass and polyisocyanurate. Some materials are only available in specific sizes, so ensuring your insulation covers equipment adequately and offers the performance needed for your particular industry is essential.
Mechanical Insulation Types
Common mechanical insulation types to consider include:
Fiberglass pipe insulation: A heavier type of insulation, fiberglass pipe might come with or without a jacket. Manufacturers can also create custom lengths as needed. This insulation is used on piping systems in commercial buildings as well as in various industrial applications.
Fiberglass board and blanket insulations:

This thermal and acoustic insulation is made for piping and HVAC ducts, power and process equipment, and components like tanks or valves. Each industry might have different density, thickness, and length requirements for this type of insulation.
Rock wool pipe insulations:

As pipe jackets, you can use rock wool or mineral wool pipe insulations for various hot and cold piping applications. You might find this product being used for high-temperature industrial operations like power stations, power plants, and hot and cold water systems.
Rock wool or mineral wool blanket insulations:

This insulation is flexible, making it a great fit for wrapping tanks, pipes, and high-temperature vessels like ducts or breechings. Like other blanket insulations, this type has varying jacket thickness and length options.
Insulation Benefits and Energy Savings
Industrial insulation provides immense benefits and energy savings for your company. Other benefits of mechanical insulation materials include:
Reduced heat gain
Weather resistance
Added durability for equipment
Temperature control in hot and cold environments
Moisture resistance
Energy savings
Fire retardation
Reduced emissions
Condensation prevention
Improved equipment performance
Improved process performance
Reduced water consumption
Improved personnel protection
Sound control
Freeze protection
Thermaxx Product Offerings
Thermaxx's trained technicians will consider your industry's needs to help you solve even the most unique problems. Whether you're looking for the thinnest insulation for your operations or a specific length, we can help you decide on the best insulation products for your industry.
Choose from a variety of commercial insulation types and thicknesses. We will also work with you to customize your insulation materials to meet your performance and efficiency goals.
Our many insulation offerings include:
Choose from top-quality insulation materials like Pyrogel XT, Needled Fiberglass, Mass Loaded Vinyl, Ceramic, and Flexible Closed Cell Insulation when you work with Thermaxx.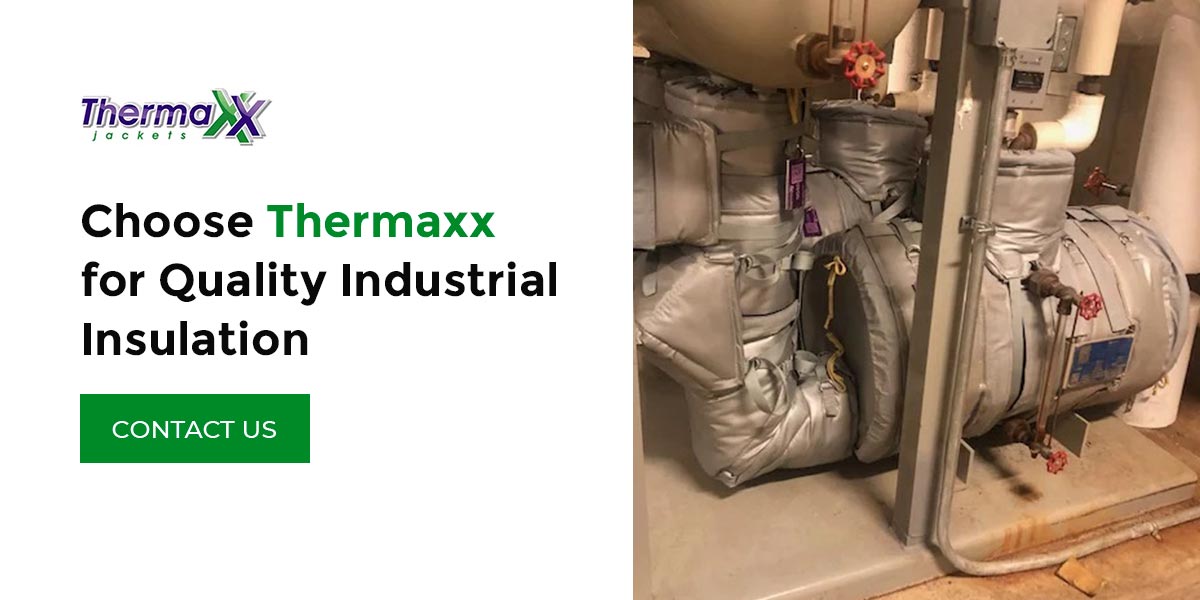 Choose Thermaxx for Quality Industrial Insulation
There are many factors to consider when it comes to industrial insulation. At Thermaxx, we'll work to find your potential money and energy savings opportunities. We'll also analyze your insulation needs to determine the best insulation materials and thicknesses for your industry so you can focus on your operations.
Thermaxx will calculate your energy savings down to each individual component being insulated to provide you with an accurate picture of your carbon reduction and, ultimately, your money savings. We also work to keep our return on investment (ROI) under 24 months for all projects, provide onsite project management, a 5-year warranty, and flexible financing options for your needs.
For precise, accurate, and responsive industrial insulation services, contact us or request a quote today.