5 Most Common Materials for Removable Insulation
Key Features and Considerations
Unlike traditional mechanical insulation, removable insulation jackets are designed to be easily removed and reinstalled, requiring certain unique features and considerations when selecting an insulation material for the interior of an insulation blanket. Here are some of the most important key features and considerations for any insulation material that can be used in the fabrication of removable insulation blankets:

The material must be flexible or pliable in order to wrap around a component and easily be removed and reused

A high k value is a must, in order to be as thin as possible to assist with an insulation blanket's ability to wrap around a component

Depending on the specific application (e.g. moisture exposure), a hydrophobic material may be required

Temperature range is a major consideration in determining the appropriate application of an insulation material in fabricating removable insulation jackets
Based on the above features and considerations, these are Thermaxx's recommendations for the top 5 most commonly used insulation materials in removable insulation blankets.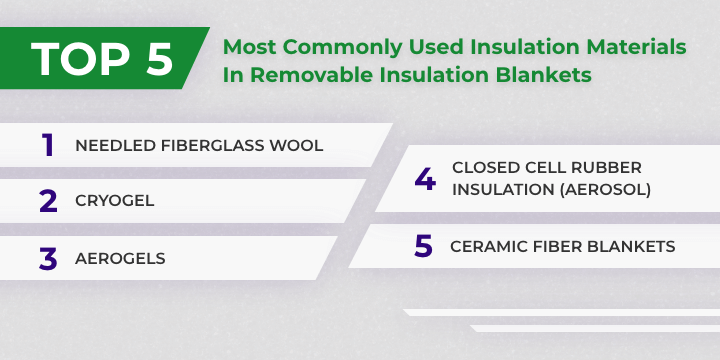 1. Needled Fiberglass Wool
What It Is: Needled fiberglass wool is one of the most economical products to use as the core insulation is a needled fiberglass felt. This product is made from glass fibers that are mechanically needled together into a web form in thicknesses of 1/4-inch to 1-inch-thick insulation mat. By using long textile fibers, needle fiberglass wool eliminates the need for binders in its manufacturing. It comes in densities of 9 to 11 pounds per cubic foot, for use on components with a maximum continuous temperature of 1200°F.
Best Application: Needled fiberglass wool is ideal for indoor steam pipe systems and most other indoor applications running at continuous temperatures of up to 1200°F.
Benefits:
Low-cost material provides the most economical insulation option for removable and reusable jackets
It is a non-combustible material
It is a flexible insulator with low thermal conductivity
Has the added benefit of sound insulation
Drawbacks/Limitations:
Not a great option for outdoor or wet applications
Not recommended for cold applications
Not an effective insulation material at extremely high temperatures
2. Cryogel
What It Is: Cryogel is a thin, lightweight, flexible blanket insulation material using patented nanotechnology. It has a factory applied vapor barrier that is highly durable for continued high performance. It can be found in two different thicknesses, 0.2" (5 mm) and 0.4" (10 mm,) and sold in 250 ft (76 m) and 125 ft (46 m) rolls, respectively.
Best Application: Cryogel® Z is a preferred option for cold conservation, with the ability to insulate at temperatures ranging from -330°F (-200°C) up to 257°F (125°C.) It is also a great option for outdoor applications, due to its zero water vapor permeability.
Benefits:
The flexible format makes it easy to use and prevents breakage in the fabrication of removable and reusable insulation jackets, even at extremely low temperatures
Lowest available thermal conductivity among industrial insulation options, reducing the risk of both ice build up and pipe freezing
Comes in rolls that can easily be cut into custom sizes for removable insulation jackets
Lightweight and ultrathin, reducing bulkiness in the final product, while also being extremely durable
Lowest k-value of any widely used cryogenic insulation material, reducing thicknesses by 50 to 80%
Factory-laminated vapor retarder provides moisture protection, prevents
damage from condensation and enhances process control
Drawbacks/Limitations:
Can be cost-prohibitive to use
Not appropriate for exposure to internal or external temperatures above

257°F (125°C

.)

Material creates particulates, which can permeate the surrounding area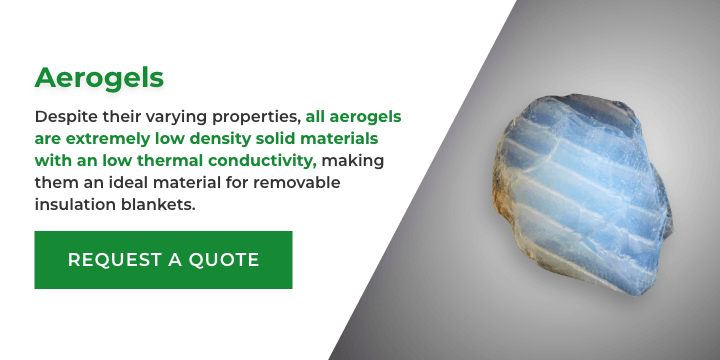 3. Aerogels
What It Is: Aerogels include a diverse array of synthetic porous, solid materials with a wide range of extreme material properties. Despite their varying properties, all aerogels are extremely low-density solid materials with low thermal conductivity, making them an ideal material for removable insulation blankets.
Best Application: Aerogels are best used for hot applications (up to 1200°F) and where moisture is present as the material is hydrophobic in nature.
Benefits:
Durable and flexible so that it can be installed, removed, and reinstalled without the risk of damaging the insulation blanket
Extremely low thermal conductivity makes it an efficient
Low density makes it thin and lightweight, ideal for use in fabricating removable insulation jackets for tight spaces and allowing for easy removal and reinstallation
Though aerogels are naturally hydrophilic, in insulation, they are typically combined with a reactive hydrophobic compound to make the insulation itself both hydrophobic and breathable, preventing damage from exposure to moisture and reducing the risk of corrosion under insulation (CUI)
Offers passive fire protection
Drawbacks/Limitations:
There are better insulating options for cold or outdoor applications where temperatures may drop to 32

°F (0°C) or less

Can be expensive compared to alternative insulation options

Not great for extremely high-temperature applications (over 1200°F (650°C))

Material creates particulates, which can permeate the surrounding area

4. Closed Cell Rubber Insulation (Aerocel)
What It Is: Closed cell rubber insulation uses non-polar EPDM (Ethylene Propylene Diene Monomer) rubber to provide a flexible, lightweight alternative to cellular glass, a popular traditional insulation material. It offers both durability and ultra-low water vapor permeability so that it can withstand harsh operating environments. It comes in a wide range of sizes and thicknesses so that it can easily be customized to meet the requirements of a specific application.
Best Application: Very cold service temperatures (including cryogenic applications) in high-temperature and humid operating environments. It is the most common material that Thermaxx uses for clean room applications as well as any wet environments, such as components that need to be washed down.
Benefits:
Rubber makes it both flexible and highly durable, providing long-lasting performance
Its moisture resistance is often the primary reason for selecting closed-cell rubber insulation for a specific application
Low thermal conductivity, helping to reduce the required insulation thickness
Can maintain performance at service temperatures as low as -320°F (-195°C)
Ideal for both indoor and outdoor applications
Will not corrode stainless steel piping
Drawbacks/Limitations:
Not a great option for applications where temperatures will reach 250°F (121°C) or higher
Material is not fireproof or fire resistant but is self-extinguishing
5. Ceramic Fiber Blankets
What It Is: Ceramic fiber blanket insulation is a high-strength, needled insulating blanket material made from spun ceramic fibers. It is lightweight, structurally uniform, has extremely low thermal conductivity, and does not store much heat.
Best Application: Ceramic fiber blankets are ideally suited for use in extremely high-temperature applications (e.g. over 1000°F (537°C.) It also is a great option for fire protection.
Benefits:
Lightweight, flexible material, with low thermal conductivity
Effective at extremely high temperatures
Sound absorbing for the added benefit of sound insulation
Thermal shock resistant
Provides excellent fire protection
It has great chemical stability so as to

resist attack from most corrosive agents

Low heat storage
Drawbacks/Limitations:
Ceramic fiber blankets should not be used if the high-temperature application vibrates, as this can deteriorate over time
Must be selective in your of choice ceramic fiber blankets, as some have been found to be carcinogenic
There are other, less expensive, options for lower temperature range hot insulation applications
Not a great option for cold insulation applications
Other recent innovations in removable insulation materials
Super Mat
Lewco Super Mat is a recent innovation in the flexible insulation blanket material arena. It has been produced since 2019 and is a dust-free, durable, reusable, hydrophobic flexible blanket for hot insulation applications from. Though not currently one of the most common insulation materials used in removable and reusable insulation blanket, it is a highly innovative product that we will likely be seeing used more regularly in the coming years.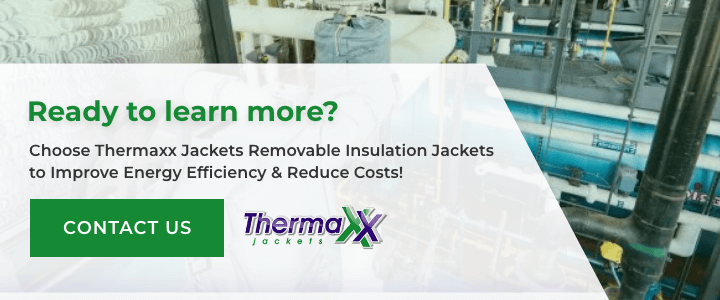 Ready to learn more?